Rob Speer, Bryan Phelan, and teaching professional and Jen Woods are here to welcome you to the Sunnydale Pro Shop!
This is where you can access all services including booking tee times, getting range balls for our driving range, renting carts and clubs.
Open year round
New and used equipment
Consignment available
Men's and ladies clothing
Golf accessories
Re-gripping service
Rentals
Gift certificates
There's always a friendly professional staff member available here to assist you in making equipment selections as well as offering knowledgeable advice on the course and the facilities in general.
For enquiries, booking or any other golf related issue, contact the Pro Shop by calling or emailing your requests to:
Tel:(250)334-3232
Email: proshop@sunnydalegolf.ca
Be sure to include your name, ​phone #/email, preferred tee-time(s), and the number of people in your group.
Or book a tee time online: Online Bookings
Gift Certificates
Order gift certificates using the form below. Give a copy of your PayPal receipt to the recipient to bring to the Pro Shop for redemption.
.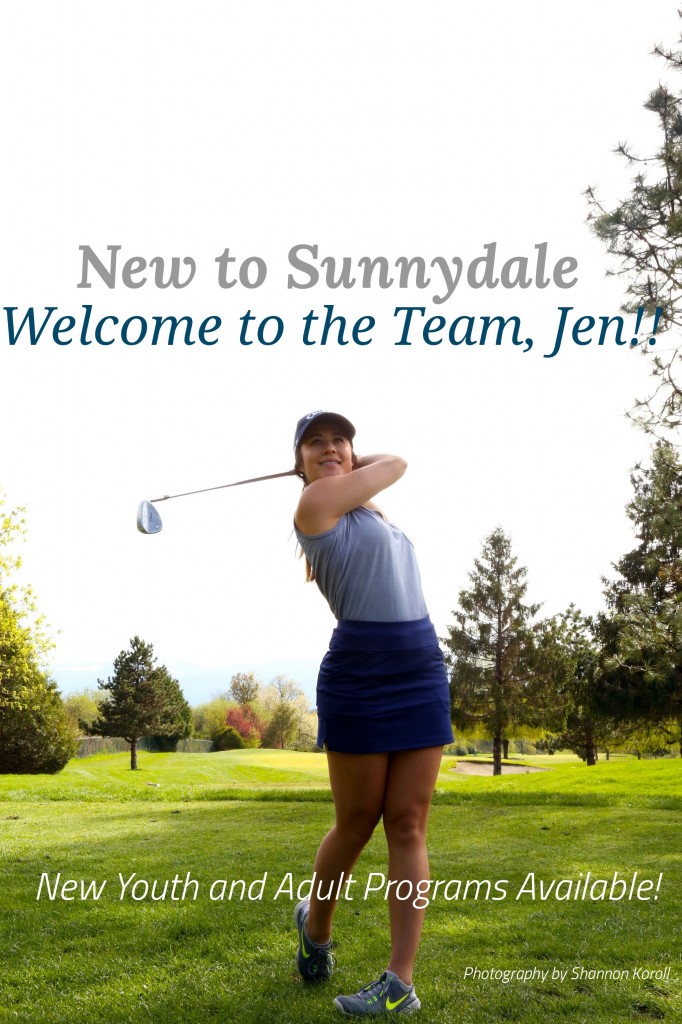 Jen Woods
CPGA Golf Professional (CFM)
Teaching Professional
Director of ©ADAPT Mentorship Program
Phone Number: (604) 997-4730
Email: jenwoodsgolf@gmail.com
Website: http://www.jenwoodsgolf.com
Make sure to follow Jen on Facebook, Twitter, and Instagram!
Biography
Jen Woods is on a mission to promote women's golf at the highest level. Her golf journey started at 8-years old learning to play with the boys at her local golf club in Kelowna, BC. At 18 years old, she decided to compete at the elite level and pursued a golf scholarship at UBC Okanagan. Shortly after winning back-to-back National Women's Team gold medals in the CCAA Canadian Championships she turned pro and played small-scale tours while working.  In 2015, she joined the CPGA to expand her golf knowledge and begin coaching to fuel her LPGA dreams.
Over five years, Jen has developed her professional career with: Independent Sales, Jofit ambassador/customer service/sales, Assistant Golf Professional and Teaching Professional. Jen strives to promote golf and model her professional values to other athletes and members of the community.
Teaching Philosophies
Jen's teaching philosophies derive from 10-years of competitive experience playing Collegiate and Professional golf, as well as the lessons she found most helpful from her coaches and mentors growing up. First and foremost, there is no such thing as a perfect swing or perfect performance, therefore Jen creates environments that force players to recognize their strengths and build on performance skills that encourage continual growth and an adaptive mindset. She teaches golf because it's the most rewarding and most challenging sport she has played! (Jen grew up playing competitively in soccer, cross-country running, basketball, and field hockey). She is one of the most determined people you will ever meet!
Jen believes golf is a game of independence, humility, and integrity- and she is devoted to find ways to creatively share these values. It excites her to share with others and help find meaningful experiences through golf!
WHICH GOLF PROGRAM IS BEST FOR YOU?
CLICK LINK FOR LESSON PROGRAMS AND RATES!
Private Lessons
New to golf? Find out how you can learn new skills AND enjoy the game!
Or need a tune-up lesson? The objective for the seasoned golfer looking to improve their game is to assess where a player and their golf game is currently and develop a plan with realistic goals with a caring and certified coach.
Each player will gain considerable knowledge on golf fundamentals and receive supportive along with take-home drills and exercises.
Each one-on-one session includes: 45 minutes of Instruction, 15 minutes of warmup or discussion. For more information on technology access please see Private Coaching options below.
Highly recommended for beginner golfers and experienced golfers
Eligibility: All playing experience welcome, Minimum 8 years old
Lesson packages available
Private Coaching
Have you considered partnering with a certified expert to excel your performance from tee to green?
Build your performance team and obtain access to resources and performance tips used by Jen and other professional players!
Each one-on-one session includes: 45 minutes of instruction, 15 minutes of warm up or discussion, Game management resources and video feedback included.
Eligibility: All playing experiences welcome, Minimum 8 years old
Lesson packages available
Semi-Private Lessons
Ideal learning environment for beginner golfers, corporate teams and families looking to learn golf fundamentals in a fun and energetic environment.
Eligibility: Must register in advance (booking stalls on range), Maximum 5 players, Please contact pro shop or Jen Woods' email directly
Each group session includes: 45 minutes of instruction, 15 minutes of warm up or discussion, For more information on technology access please see Private Coaching section for more information.
Specialized Programs
©ADAPT Mentorship Program
Is your golfer between the ages of 15 and 25 years old?
This unique program incorporates module-based learning combined with interactive training exercises specific for competitive golf. This 15-week program supports athletes while they discover and develop mental toughness, game strategizing, and other long-term development routines for success on the golf course and beyond.
Compared with other junior and young adult programs, Jen understands the benefits of one-on-one mentorship settings and feels ADAPT's 5-step formula will help young people create stronger memories with the information learned in the classroom and through experience.
Learn how mentorship can help you achieve exceptional performance in golf and in life!
For more information on the program and meet Jen contact Jenwoodsgolf@gmail.com and book your free consultation!